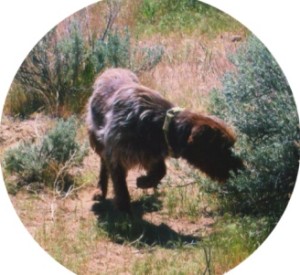 These Wiredhaired Pointing Griffon are out of hunting stock, but will also make a great companion. They are AKC Registered and can also be registered with NAVHDA. Griffs have natural hunting abilities and are great with birds and waterfowls. They are great trackers, pointers, and retrieves on land and in water, they will enter briers or underbrush with out hesitation.  They have a double coat that gives them a unkempt appearances, gives them protection from the elements and also protect them in rough cover. They are breed to cover all terrains that the walking hunter encounters. They have a fine sense of smell and a passion for hunting.
The Wirehaired Pointing Griffon is also a great family dog. They are very energetic and playful. They are enthusiastic playful dogs with older children and adults, also guardians for small children and property. They love human contact and need attention daily. If you have a family that is active and loves adventure then this is the dog for you.
They love going on runs, hikes, and they love water. If you go swimming in the outdoors your Wiredhaired Pointing Griffon is sure to follow.