Thought you might enjoy a recent photo of Snake River Back Nine Divot, the Wirehaired Pointing Griffon pup I got from you this summer, taken on our recent hunting trip to North Dakota. Even at only 5 months he showed great promise. By day two he was finding, pointing and retrieving birds. Still pretty small to range out very far, but he definitely demonstrated that he was serious about hunting. Here he is with his first bunch of roosters.                                                                                                                                   Larry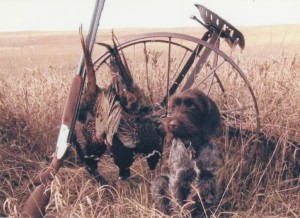 October 14, 2011                                                                                                                     Hattie is now 5 months old. She is very smart and listens well. She loves to retrieve her dummy quail on land and in the water. She is a great companion and likes to go with me everywhere. She is a great dog and gets lots of attention and praise from others. I am glad you sold her to us, thank you.                                                                                           Sincerely, Curtis
We wanted to thank you again for Harlow. He is the best dog ever. We love him so much!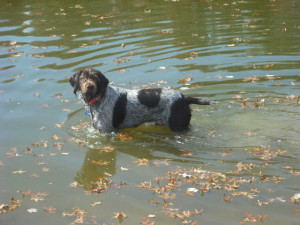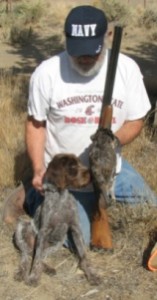 Thought you might want to see one of your pups with his first grouse at 5 1/2 months old.
Grant & Julie,
I just wanted to give you an update on my Griffon (Orion) I got from you back in February.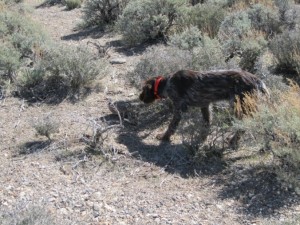 He has been doing good with the family and is very loyal. I have had him on few live birds and has done good for what I know.
We have been working with the obedience training and is doing really well. I plan to work more with him on live birds next month and hope to be able to shot over him soon. He has good desire for birds.
I also hope to get him tested for Natural Ability this fall.
Thank you for this great pup.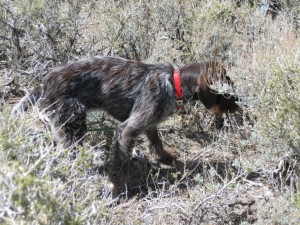 I thought I would send a quick update on the pup we bought and picked up from you.  "Betty".  She is doing very well, and learning very quickly.  I see better hunting skills from Betty at this age than I saw from the short hair and wire hair I have had in the past.  She is very happy and very energetic.  Taking her on the winter has had some extra challenges, but all worth it.
Thank you both for making her available.
Bill
Just wanted to let you know Duke is amazing and we couldn't be happier with our pup. We have had him hunting dove, quail, chukar, huns, and pheasant and he is a natural. Thanks again ad I would love to be a reference if you ever need one.
 Cheers, Angelo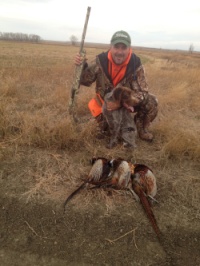 Grant thank you for an awesome dog. I hunted Elle at 8 months in N.E. Montana this fall. She has a great nose and lots of motor, and still can be a good citizen in the house.  She definitely wants to please, can't say enough how much we appreciate her as a pet and a hunting dog.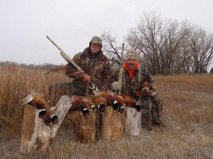 Thank you, John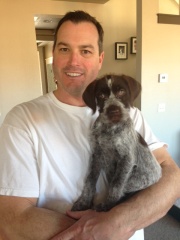 Hi Grant, sending an update of "Bird Dog"! She is doing well, busy as can be, and great little sister to Crew ( her big boxer brother). She is signed up for school and we plan to have her in the field by hunting season! She is a great addition to the family!                Jeff and Jen
Grant and Julie,
I wanted to give you an update on little Miss Remi.  It's been about a year since she was flown to Oklahoma and we couldn't be more pleased with her.
   She has such a kind, loving personality.  She really is the most loving dog we've ever had.  She loves to point at birds and soccer balls.  She becomes very intense when there is something she wants!
Thank you,
Heather
Dear Grant and Julie
Just want to drop a note to tell you how our pup is doing.  He is a happy dog.  We have enjoyed him in our family.  He sits, shakes,  lays down and is so fun with the grand children.
Most of all he has excelled in the field.  He has a great nose.  He can point hold and flush the pheasant wings that we hide in the field behind our house. In the next couple months he will be going to puppy kindergarten.
2/11/2010 -update
Just wanted to drop you a note on how well Snoop Dog is doing, he is well.  We are in our 3 week of school and he has caught on so well.  He is so smart, it doesn't take him long to learn new commands.  He gets to do field work once a week and he has been on pheasants, he know that their somewhere in nose range but doesn't get the opportunity to retrieve them yet.  He has been great with the grand children .  Thanks for breeding a great dog, he has become one of the family
Jeff
Hello Grant,
I am not sure if you remember us, but we bought one of your female pups in February. The fattest one in the bunch I might add!  I just wanted to let you know that she was one of the best dogs we have had. Unfortunately she was killed a couple of months ago. She was out one morning, and a couple of trappers mistook her for a wolf/coyote. It was extremely devastating for us, and we still miss her . I know its not awesome to hear that one of your pups died, but what I really wanted you to know was how great she was. She was completely focused on her people from day one. She never had a terrible chewing stage. I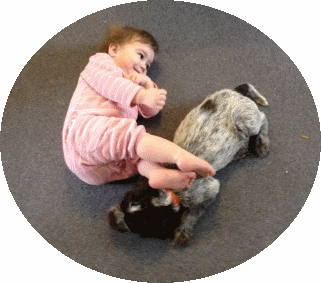 caught her once with a shoe, and after a scolding, she never touched a shoe again. She Loved hunting birds, and was well on her way to being a great bird dog. She also was beginning to track. In fact, she tracked her first wounded moose at nine months. We live out in the middle of nowhere, and she was a really great watchdog, but I never ever worried about her with people. She loved attention, and would follow you anywhere, all day long. Her personality was goofy and playful, and we wouldn't want it any other way. Thank you for letting us have a great, although bittersweet experience with "Charly". When we are ready for another pup, I know that we will be coming back to you. Thank you for making our experience with Griffons such a great one. All the best,
Jenn and Nathan, and 5 kids who loved their pup.
Grant
I just want to send you a quick note to let you know that our Griff, now known as Riley is doing great.  From the day we picked her up she was such a social, sweet dog and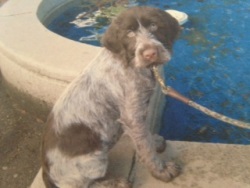 the continues to be the case.  She is such a good little traveler and  slept almost the entire way from Buhl to Portland.  She adapted to us quickly , sleeping in her crate through the night.
She has been a champ at the vet for all of her shots and definitely a waiting room favorite, not only because she is such a beautiful dog, but also because of her relentlessly friendly personality.  People consistently come up to me to comment on what a good looking dog she is and are always in love with her sweet friendly personality.
She is such a super friendly sociable, eager to please, intelligent young dog.  She is now enrolled in puppy training classes and is doing very well.  She absolutely loves all of the other dogs and is eager to play with all of them, without even a hint of unsociable behavior.   When other dogs get detracted from the  lessons, she is still looking into my eyes, waiting for the nest command, anticipation what I want from her next.  We are both looking forward to lots of hiking, swimming and camping this spring and summer, as well as pointing and retrieving her first birds this fall(although she already goes on point on our walks in the country).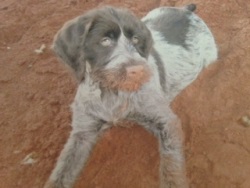 We just wanted to thank you for socializing her as a you puppy and setting us up with such a great, healthy you dog.  There is already talk of putting the name back on the list for another female from you in the future, but not that soon, puppy hood is still fresh in the mind!  Again, a big thanks to you and your family.
Patrick S.
Cant believe the questions we get on him…everyone wants to know 'what is he!' along with how handsome he is.  we couldnt be happier.
best,
-severin
Hi Grant and Julie,
We got our Hinchinbrook from you a couple years ago. He has turned out to be a fantastic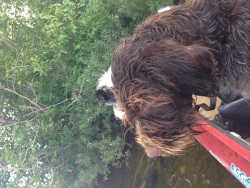 family member.  He is always ready for an adventure, is happy to follow our boys anywhere they go,  or to help his mom with chores. We live on a lake and he has turned out to be a strong swimmer with unbelievable stamina.
He points birds, rabbits, moose and squirrels all the time.  We have exposed him to gun fire and he is not gun shy at all. We did a bird hunting class with him, which he loved.
I just wanted to thank you for bringing such a happy and wonderful dog into our lives!
Kim